Between the lines
How animals in Ukrainian agriculture suffer from war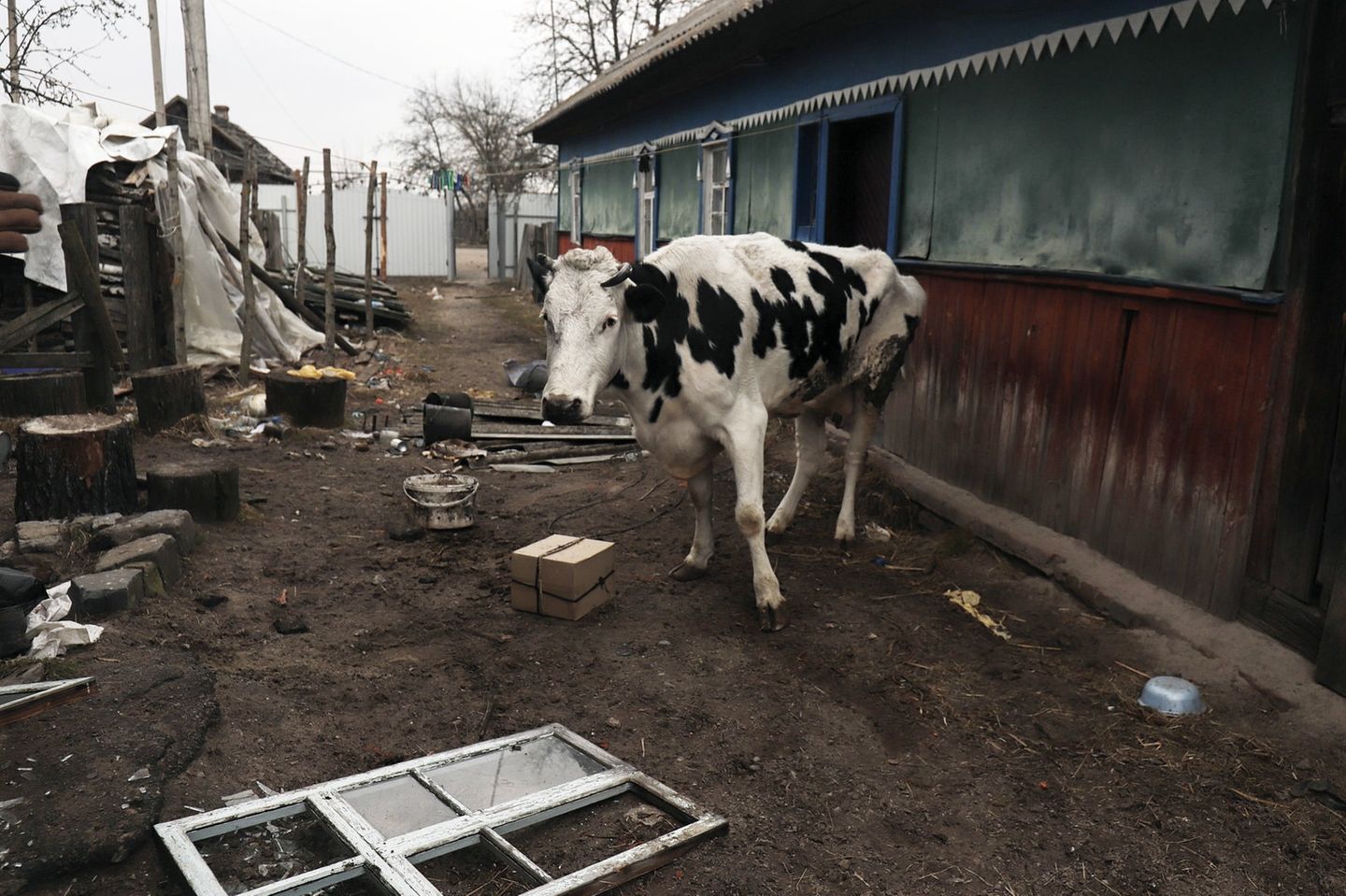 Russia's war against Ukraine brings immeasurable suffering to the people of the country. Many are no longer able to care for their animals, which are now dying or wandering among the ruins of their stables.
Cows lost between the rubble of their barn: In addition to the immeasurable suffering of the civilian population, videos on the Internet these days show another, subtle brutality of Russia's war against Ukraine: millions of animals directly suffered from Russian attack and occupation. They are starving, dying of thirst, wandering, injured or killed by bombs, rockets and bullets.
Last year, more than 200 million chickens, almost three million cows and almost six million pigs lived in Ukraine. But the invasion of Russian troops blocked many supply and distribution channels. In many places, critical roads and bridges have been destroyed, either by Russian bombs or by the Ukrainian army to stop the advance of enemy troops. Many farmers, especially in the east of the country, do not know how to care for their animals in the coming weeks.
Millions of chickens have died or been slaughtered

The situation in the poultry industry is especially critical. "Now the animals are suffering even more than they already have," says Sabina Shaper of the animal welfare organization Four Paws. One example is Europe's largest laying hen farm in the Kherson region in the south of the country. "After the attack, the farm was completely cut off from the power supply, millions of chickens died," says Sabina Shaper. At least three million chickens have been killed since the start of the war. "Shocking" situation in the meat and dairy industry.
Recently, the Union of Pig Breeders of Ukraine turned to professional organizations around the world for help. The association represents 1400 pig breeders of the country. Therefore, many companies are located in close proximity to war zones. Some of them are completely isolated. And some pet owners have no choice but to euthanize their animals. Access to feed additives and veterinary drugs is very limited.
Cows cannot be milked without electricity

Dutch farmer Kees Huizinga, who set up his business in Ukraine in 2002, is also trying to continue to feed and treat his 2,000 dairy cows and 450 sows. Many of its employees are fighting in the Ukrainian army. On Twitter, he explains: "We still have electricity and luckily we can still milk milk." Huizinga stocked up on straw, hay and corn during the last months. But soybean meal for pigs, according to the farmer, is only enough for a few weeks. And then? You may have to slaughter a large number of animals. But in slaughterhouses and processing plants, as elsewhere, there are not enough personnel – because of the war.
The difficult situation in dairy farming on March 11 at Bayerischer Rundfunk was described by Alex Lissitsa, President of the Representative Office of Agriculture of Ukraine: There was a lack of feed and veterinary care, including on our own farm. "In short, it's a disaster." In addition, the electricity goes out all the time. And there is fuel for emergency units only for a few days.
It is not life-threatening for cows. However, if dairy cows are not milked regularly, painful udder infections can occur. Lisitsa also reported on a dairy farmer near Kyiv whose stables were hit by Russian bombs. Now the cows roamed the fields.
Bombed out stables, dead animals lying around

"The situation is very serious," says Maria Yaroshko from Kyiv. "We are getting more and more reports of destroyed farms and that animals are being bombed," says the acting head of the German-Ukrainian Agricultural Policy Dialogue. She reports photos of dead animals just lying around. From the bombed-out stables. In the Chernihiv region, the Russian invaders did not let a farmer and his workers to their cows for three weeks. Animals there probably starved to death or died from inappropriate food.
There is no official data from Kyiv on the destroyed enterprises, not to mention the number of animal victims. "And what happens in the war zone or in the occupied territories," says Maria Yaroshko, "we will only know when people can return."
Animal owners in disputed areas help each other with feed or milk by hand where the power goes out, a trained veterinarian says. In addition, the Ministry of Agriculture of Ukraine coordinates mutual assistance. However, many small farmers who had to flee apparently didn't know what to do other than abandon their animals. After all, where there are no more frosts, at least some of the animals would have a chance to survive," says Maria Yaroshko.
Yulia Molokova from Irpin near Kyiv also let her five horses go – so that they would not die either under the rubble or in the fire. There were fierce battles in the area. In unaccustomed freedom, horses rushed for days towards an unknown fate. "Please pray for my horses," she asked her Facebook readers.
Least this is The animals are lucky: now they are back with their owner.